About Us
Villa Toscano is a winery that has been making wines of distinction in the Shenandoah Valley for over 20 years. Our wines are produced from our beautiful estate vineyards. The Shenandoah Valley, Amador County appellation has been producing wines and grapes since the gold rush days in California. Which makes this area rich in history and a unique wine growing area.
Located 100 miles from San Francisco and 40 miles east from Sacramento in the Sierra Foothills. Amador county is best known for its Zinfandel, Barbera, and Rhone varietal as well. Amador county grapes are best known for being bold and complex.
Erika and Jerry Wright owners and Stewarts of Villa Toscano, have always held a special place in their hearts for this beautiful historical wine growing region. Their passion for fine wines, excellent food, and elegant lifestyle is apparent when visiting their romantic winery. Producing over 30,000 cases per year, many of our wines are full-bodied and crafted from century-old vines, that we are lucky to have on our estate. At Villa Toscano, we are always in the pursuit of excellence and elegance, that we are sure you will taste in every bottle of Villa Toscano wine.
Tuscany (or Toscana in Italian) is a place well-known for its food, wine, music and art. There you have two of the most iconic wines in Italy: Chinti and Brunello. The food dispense comments. Every time you walk around the small Italian villages, you can see fresh pasta in the windows of the restaurants. Once of Erika's favorite: Bistecca alla fiorentina, a wonderful T-Bone steak cooked, one of the most popular dishes of Tuscan cuisine. Florence is recognized worldwide among the top cities for art and architecture, with its numerous historic buildings, monuments, and rich museums, including Uffizi Gallery where you can find the orginals of the best Italian painters such as Michelangelo, Botticelli, Raffaello and Leonardo Da Vinci.
All these wonderful ingredients have inspired Erika and Jerry to continue to enjoy this piece of the heart of Italy, here in California.
---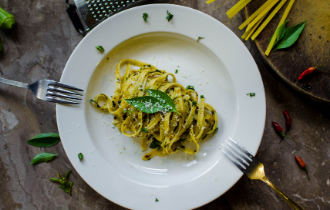 FOOD & WINE
Our bistro can give you a taste of Italy. We offer pizzas, sandwiches and bites for you to enjoy your wine with us.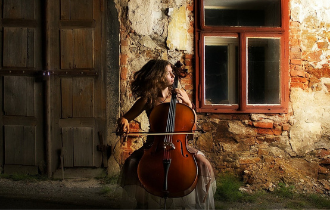 MUSIC
See our music selection that Erika has chosen for you to enjoy our wines with. A glass of wine tastes better with music.